Tech Support Options for Help With Troubleshooting
Whether it's setting up a new tablet or troubleshooting a finicky Wi-Fi connection, every day parents across America lean on their kids for tech help. In fact, 30-40% of parents have learned how to use the computer and internet from their kids.
But even if you aren't a digital native, there's a simple process you can use to start troubleshooting and try to solve your problem. Here are some tips for getting the tech answers you need—without placing another panicked call to your children.
Search Engines Are Your Friend
When in doubt, your best bet is to head online, but if you feel like you've already exhausted your search efforts and are ready for someone else to take the reins you can skip to step two.
Do a Targeted Search
If you're having a problem, it's likely that someone else has faced the same issue before. Bad for them, but good for you: if you type your specific question into the search box, you're likely to find recommended troubleshooting steps and in some cases a surefire solution to your problem.
Get very specific with your search. For example, if you can't get your bluetooth mouse to connect to your computer, you might search for "Logitech Bluetooth mouse won't connect on MacBook Pro." Typing the name of the specific products and tech problem will give you the most useful potential solutions. Results from question and answer forums can be especially helpful, because the person asking the question usually confirms which troubleshooting steps worked to fix the issue.
Find How-To Videos On YouTube
YouTube is filled with more than just cute pet videos. You'll find content from everyday people—just like you—who offer solutions to common tech problems. And, many companies have dedicated YouTube channels filled with how-to videos. Do a targeted search on YouTube to find what you need.
Visit the Company's Website
The product manufacturer's website is one of the best places to get tech support. Companies like Microsoft, Apple and Dell all have FAQ and tech support sections where you can type your issue into the search bar and access instructions. Google, for example, has a page that contains answers to common questions about Gmail. Frontier's help center can help answer questions like "how to change my Wi-Fi password."
One trick to find these resources is to use Google to search a specific site. The query "site:apple.com bluetooth won't work" will show you pages related to "bluetooth won't work" that are on Apple.com.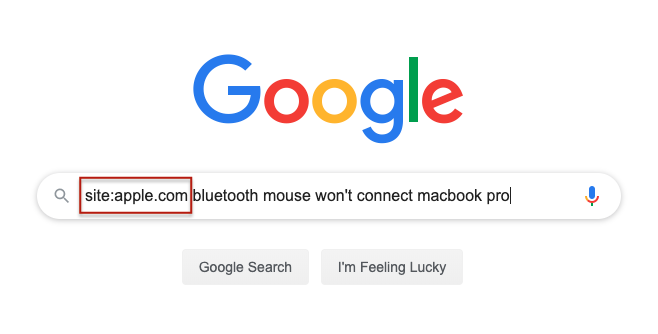 Talk to Customer Service
If you still can't find an answer to your question, call or email customer service for the website or product you're having issues with. While you are unlikely to get an immediate response or resolution, they can walk you through, step-by-step, how to resolve your issue. Some companies even have virtual customer service agents on their website you can talk to in real-time.
If customer service isn't as helpful as you'd hope, check out the more hands-on options below.
Dedicated Services for Tech Support
When all else fails, it may be time to find dedicated tech support. Generally speaking, your best bet is to find these services from reputable brands that you know and trust, or to go local, making sure to choose a provider who has positive reviews and an established track record.
One note of caution: Tech support scams are common. In 2017, the FTC reported receiving more than 150,000 complaints related to tech support scams. When seeking technical support services, they recommend you "go to a company you know and trust."
Geek Squad
Offered at Best Buy, Geek Squad can set up your new TV, fix your smartphone or repair your laptop when you see that blue screen of death. They can fix problems with any device, no matter where you bought it.
Apple Care and Microsoft Complete
Hardware protection plans from two of the most popular tech brands include priority technical support for products purchased through these retailers. When you buy a computer or other device from one of these companies, you may want to consider these products, which will give you access to priority phone support for any hardware (computer, phone) or software (iPhoto, Microsoft Word) issues, in addition to other perks like insurance coverage for accidental damage.
Amazon C​omputer Repair & Tech Support Services
Want to set up a wireless printer or hook up a sound system? Amazon has hand-picked service providers who will come to your home to get the job done. Amazon also offers a guarantee on their home services to make sure you're satisfied with the service performed. One downside with going this route is that Amazon vets all the providers, so you won't be able to vet them yourself.
TaskRabbit
Owned by Swedish furniture company IKEA, TaskRabbit is an online marketplace where you can find skilled service providers on demand. Type the service you need into the search bar and you'll be taken to a page where you can provide more details, like a task summary and the estimated time it'll take. TaskRabbit then provides a list of professionals and their hourly rate. Based on your budget and needs, you select who you want to hire. One thing to watch out for: if you type in "computer help," for example, there's no standard since "computer help" could mean anything, so make sure to ask if your tasker has experience in your requested service.
My Premium Tech Pro by Frontier®
If you have Frontier's TV, phone or internet service, you can opt for My Premium Tech Pro, which offers unlimited remote support for just about any internet-connected device, no matter where you got it. That includes desktops, laptops, tablets, peripherals (printers, scanners), gaming systems, smartphones, smart TVs, smart home devices, video doorbells, Wi-Fi security cameras, and much more. U.S.-based tech experts can help you get the most out of the devices, apps, and technology services you use every day.
Features include:
Unlimited device support:

f

or new device setup, PC tuneups, security check-ups, virus and malware removal.

Battery and device optimization:

assistance with battery performance issues, app management and device efficiency.

Troubleshooting connectivity issues:

help with audio and video streaming and Bluetooth or Wi-Fi connectivity issues related to your devices even if they're from different brands.

Microsoft software applications:

i

nstallation services for Microsoft Word, PowerPoint, TurboTax, Internet Explorer and more.

Backup data:

help backing up your data to an external device or cloud application.

Pre-purchase recommendations: understand the features and benefits of different device options before you buy.
My Premium Tech Pro includes a mobile app as well. With easy click-to-call and click-to-chat functionality, you can reach a live tech expert in just seconds, right from the comfort of your own home.
Make Tech Support Easy
When it comes to technology, sometimes you may not have the time or patience to figure it out yourself. Thankfully, you have options, including online help guides, YouTube videos and dedicated tech support services. All these resources can give you the information you need, so you'll never have to place another SOS call to your kids again. Who knows, maybe you'll even teach them a thing or two the next time they're in town.