Shop Smart From Home With Augmented Reality Apps
They're popping up when you're shopping online: invitations to "try it on" or "see it in your space." But does this mean the company sends you the product, you test it and send it back if you don't like it? Not so fast! Enter augmented reality, or AR, which uses your phone's camera and sensors to meld your reality with something virtual.
AR shopping combines the technology made popular in apps like Snapchat and Pokémon Go with the convenience of try-before-you-buy. So, if you're already good at using filters to manipulate faces to look like pirates, cute animals or extraterrestrials, and if you love playing Pokémon Go, you're definitely ready to shop with AR.
How to get started
The only tool you need is a mobile phone or tablet. A recent Apple iPhone or Android-powered smartphone will have Apple ARKit or Google ARCore, respectively, allowing you to superimpose images on your surroundings with your phone. You may hear about other gear, like glasses with an AR lens, but those are mostly speculative and not mainstream yet. A heads-up: iPhone users tend to get AR features and updates first.
Where can you shop with AR?
AR furniture shopping is offered by many of the biggest online retailers. And it's magic to see something that isn't really there on display in your own home.
Target's mobile app allows you to place furniture in your home with a "see it in AR" link on the bottom left of its product pages. The results provide an indication of how a piece of furniture would work in your space. The process is a breeze—just tap the link and it shows up, and you can put it in the right spot.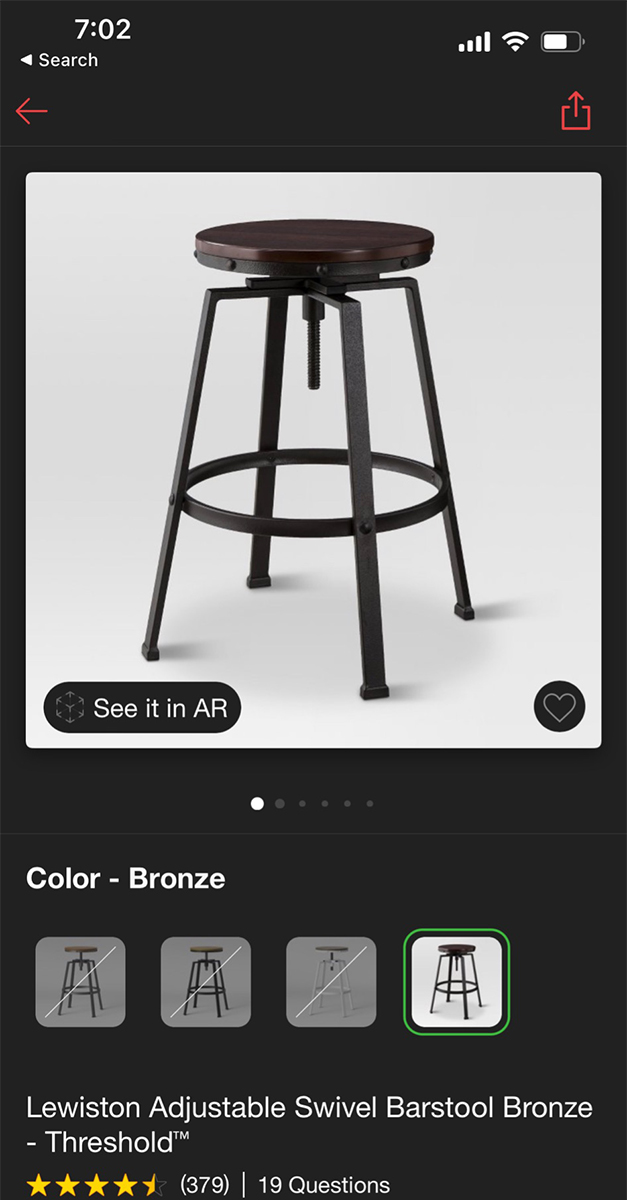 Furniture giant IKEA, meanwhile, has a whole separate, downloadable AR app called IKEA Place. This well-designed app feels more like a proof-of-concept than a full-blown AR furniture-shopping app. Still, I was able to surround myself with enough Billy bookcases to feel claustrophobic.
Amazon's iOS app also lets you go AR furniture shopping—including a "view in your room" button on compatible product pages. But it goes ever further. The Room Decorator function on the app lets you lay out entire rooms and take a look at several different items at once.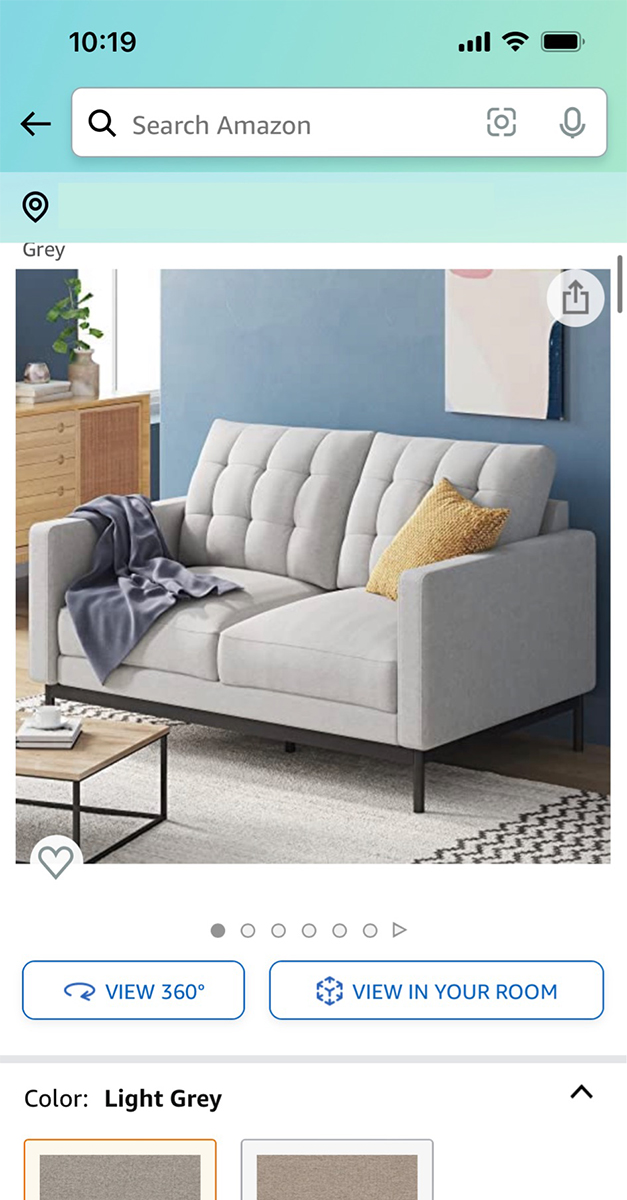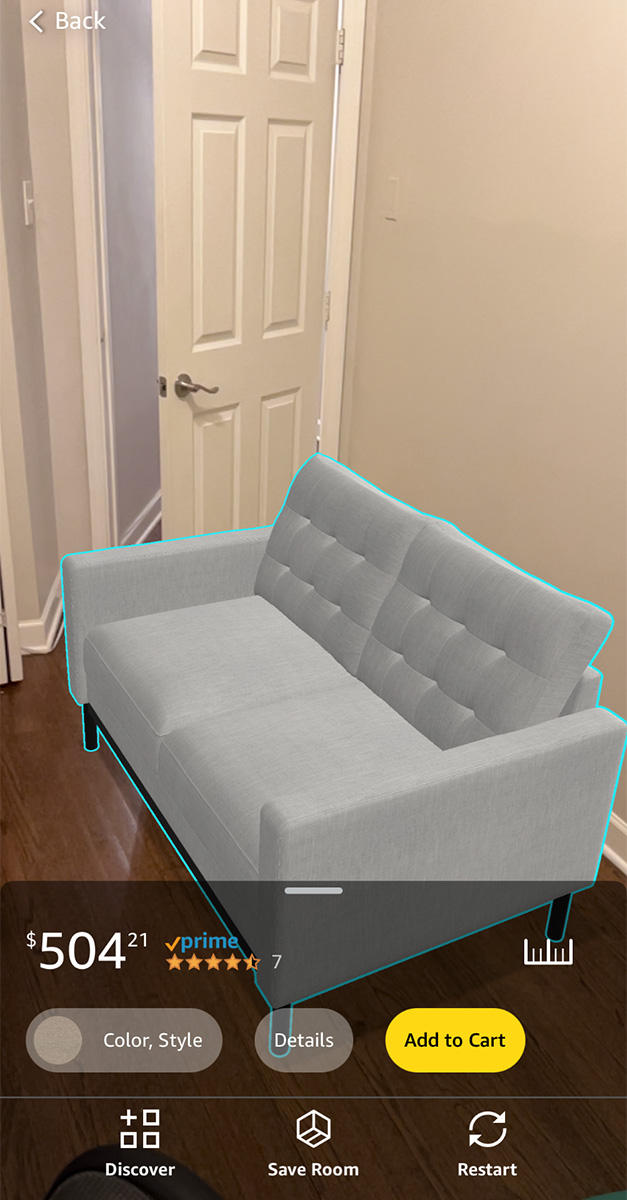 Wait, there's more! Warby Parker lets you try on glasses using a feature called Virtual Try-On. The glasses are superimposed over your face and follow your movements as you turn your head—allowing you to examine them from all angles. Etsy enables you to "hang" paintings and other wall art. There's also Instagram AR shopping, which you can use to try out makeup.
Here are some other examples:
Amazon's app also gives you a great "live" shopping experience with virtual try-on for several categories, including clothing, makeup and sunglasses.
Sephora Virtual Artist enables virtual makeup try-on, so you can sample different products and shades without needing a single makeup wipe.
Lowe's is releasing Measure Your Space this year. The app will help you create a virtual blueprint of your room to help you plan remodeling projects.
The Nike Fit app can accurately determine your shoe size—the company contends three out of five people wear the wrong one.
How good is AR shopping?
AR shopping adds a new dimension—namely, the third dimension—to our love of online shopping. AR is a wonderful tool for reinforcing a purchase decision, narrowing down or expanding options or seeing something you can't see in a store.
But if you want to use AR to lay out a room in millimeter-perfect precision, the technology isn't there yet. Apple's built-in Measure app was a full inch off measuring the width of a door in my house. And just like shopping for clothes online today is missing the fit and the feel, AR hasn't done much for capturing those either.
Still, it's kind of exciting, and you just need an app, a camera on your mobile device and a strong internet connection. Without even standing, I sampled different stools for my dining room table (verdict: sticking with chairs) and "tried on" new sneakers (my order has shipped). If I got tired of what I was sampling, new options were a tap away. It was empowering, a bit wacky and a lot of fun.
Consider AR another tool in your shopping arsenal, rather than something that can replace showrooms and the win-some-lose-some nature of online shopping today. Because when you're shopping, it's always great to have options, right?