Get a Cleaner, Healthier Home With These Smart Devices
Americans are loving their smart home devices. In addition to helping save time, energy and money, smart home devices can also assist with keeping you healthy at home. From clean eating to clean air, from maintaining physical activity to home maintenance, here are ways integrating smart tech into your space can be a healthful solution.
Smart devices to help you

cook healthier
By simplifying healthy cooking at home, having a few smart devices in the kitchen can help you create better eating habits. Some assist with food prep and the actual cooking process, while others work to keep positive eating behaviors on track. Here are a few of the most popular options.
If you're an Instant Pot fan—or if you're just ready to try a new method of cooking—you'll be happy to know that the latest models pair with your smartphone, allowing you to control your cooking from anywhere. If you're home, you can call out commands and get updates on the status of your meal through Amazon Alexa or Google Home.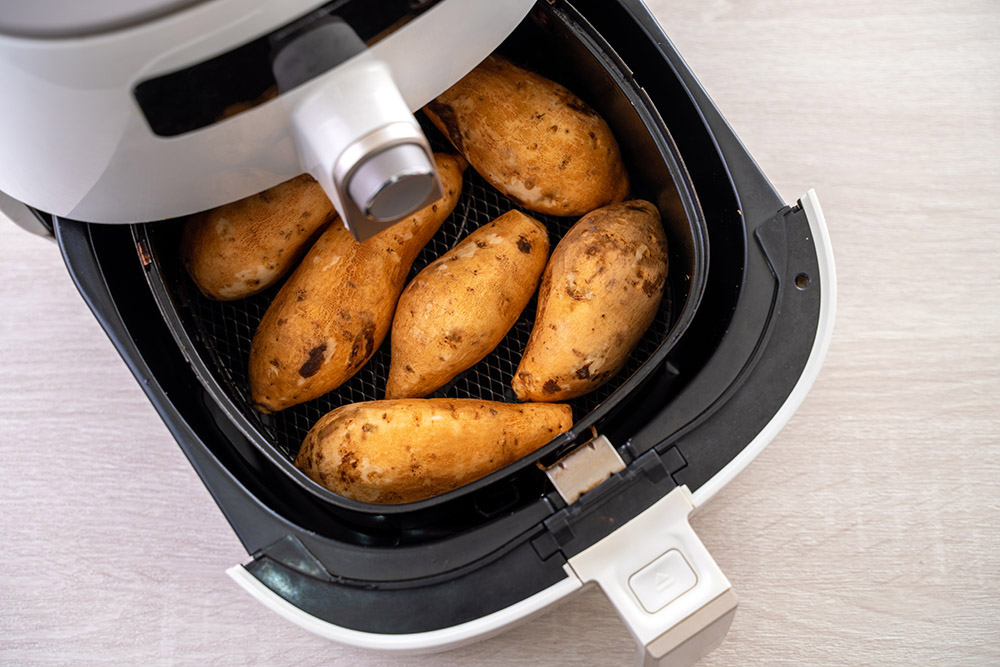 Photo from Getty Images
Air fryers are a great choice for cooking food faster, and they're a more health-conscious technique, requiring less oil than traditional frying or roasting. Air fryers connected to Wi-Fi, like the Cosori Smart Air Fryer, let you control and track your food from your smartphone using Amazon Alexa and Google Assistant. From the app, you can select from the cooking presets (like Chicken, Steak or Vegetables), set timers and even plan meals.
If you weigh your food or portion out ingredients, check out the Vitamix Perfect Blend Smart Scale. This device pairs with a recipe app that, along with the scale, helps you create a perfectly measured meal. It also connects with fitness apps like Apple Health and Google Fit so you can more easily track what you eat. If you already have a Vitamix blender, it can be a great companion for making precise smoothies and sauces.
Smart devices to help you stay active
Maintaining a healthy fitness routine can be hard when you have to take your workout inside with limited space. Smart technology like Mirror, disguised as a decorative element when not in use, lets you turn your living room into a gym. Mirror connects through Wi-Fi, gives you hundreds of workouts from real trainers (with more added each week), offers live classes and pairs with wearables to show heart rate and calorie stats while you move.
And if you're missing spin class, Peloton might be a good replacement. Like Mirror, you can choose from prerecorded classes or jump in on a live session. Peloton recently introduced the Bike+ with a rotating 23.8" HD screen so you can stream strength, yoga, stretching and meditation classes even after you're off the bike.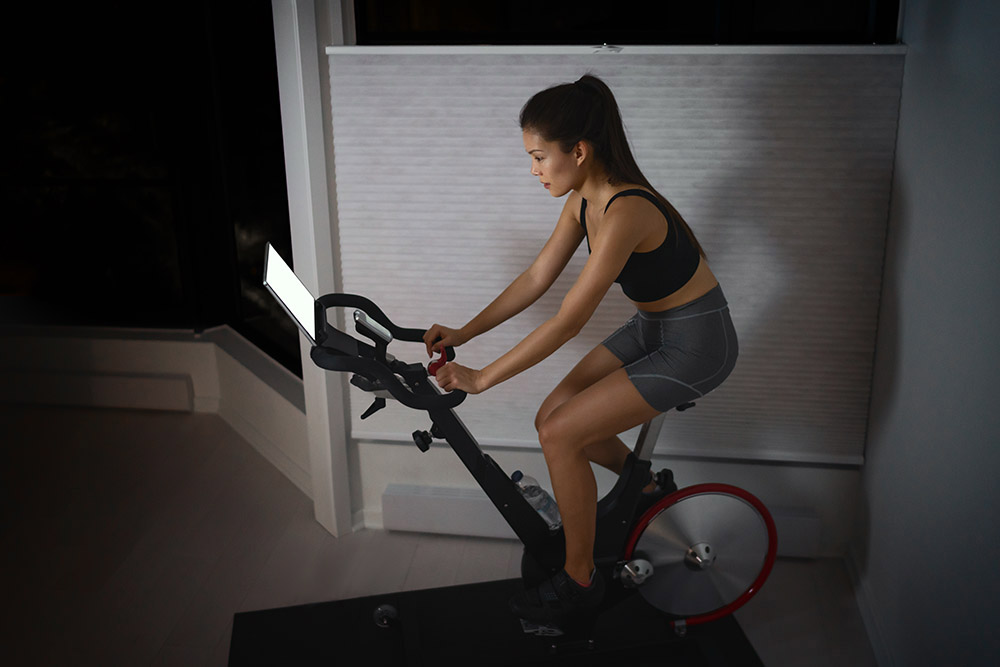 If strength training is part of your routine, dumbbells like this adjustable pair from Bowflex can track your exercise session for you. The compatible app is full of workouts to choose from and also monitors the weight, reps and sets of each move, along with tracking your overall progress.
And then, of course, there are wearables. Today's tech marketplace has many options, though Fitbit, Apple Watch and Garmin continue to be the most popular. These devices track your fitness throughout the day—steps, calories burned and more—and keep data about your heart rate and sleep quality. They can be especially helpful for reminding you to move around if you've spent the whole day inside and sedentary.
Smart devices to help you breathe better
As you spend more time inside, it's time to think about your home's air quality. Allergens, pet hair, smoke, plus other harmful air pollutants like some cleaning sprays and disinfectants, can irritate sinuses with symptoms such as itchy eyes, headaches and sneezing. Fortunately, the powerful technology found in smart air purifiers and smart humidifiers can help you maintain clean airflow throughout your home. Many devices are available, varying in features, size and price point.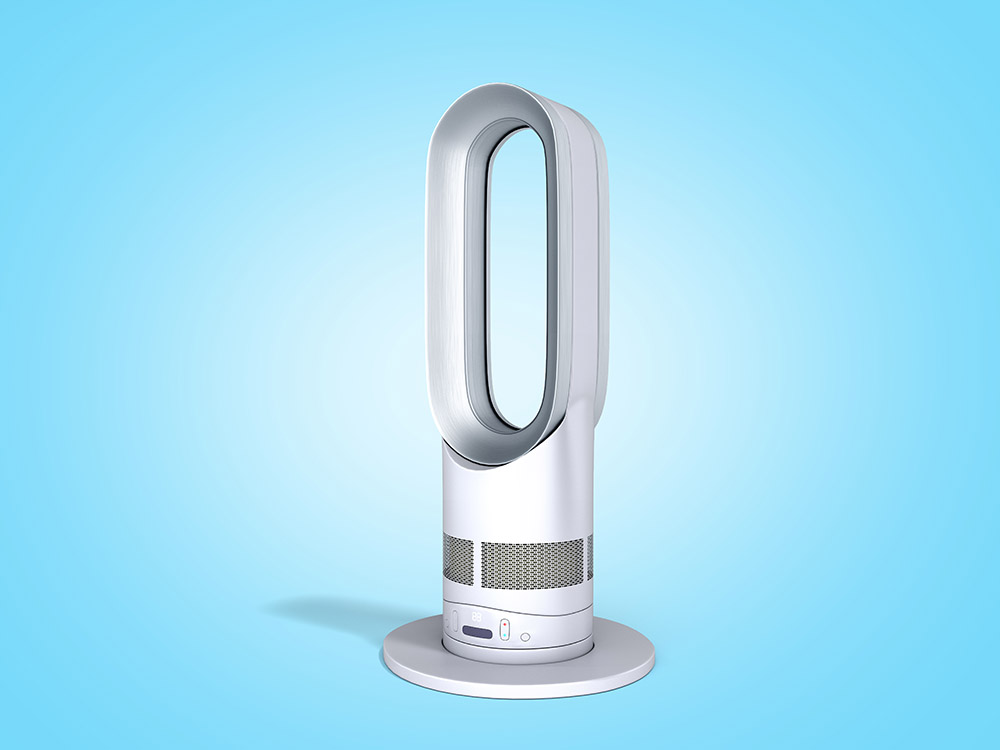 Dyson's Pure Hot + Cool can heat or cool while it purifies your air, and it can be controlled through either the Dyson app or Amazon Alexa. Dyson's app shares details like precise data on volatile organic compound (VOC) and nitrogen dioxide (NO2) levels with graphs, so you can understand how your home's air quality changes throughout the day. Dyson also created the Pure Humidify + Cool, which does the combined work of an air purifier and a humidifier, and even cools your home if you live in a climate that's warm year-round. This advanced technology senses airborne particles and gasses, as well as temperature and humidity levels, and automatically manages the air quality and moisture in your home accordingly.
More affordable smart humidifiers are also available, like this one from Proscenic, which includes features such as data on humidity levels and an aromatherapy function and can be controlled with your mobile device.
Smart devices to help you keep a clean home
A tool that can help keep your space tidy is the robot vacuum. From collecting day-to-day dust and debris and to keeping up with pet hair, a robot vacuum means you can cross this chore off your list.
Roomba is one of the most popular of these Wi-Fi–enabled wonders. The iRobot Roomba 675 picks up dirt and other debris from hard floors and carpets using detection sensors and can even suggest new cleaning routines when pollen is high in your area or when it's shedding season for Fido and Fluffy. More advanced models can be trained to clean only certain rooms of the house and can be asked to do tasks as specific as "clean the bedroom" or "clean under the kitchen table." iRobot vacuums can be controlled through Amazon Alexa or Google Home.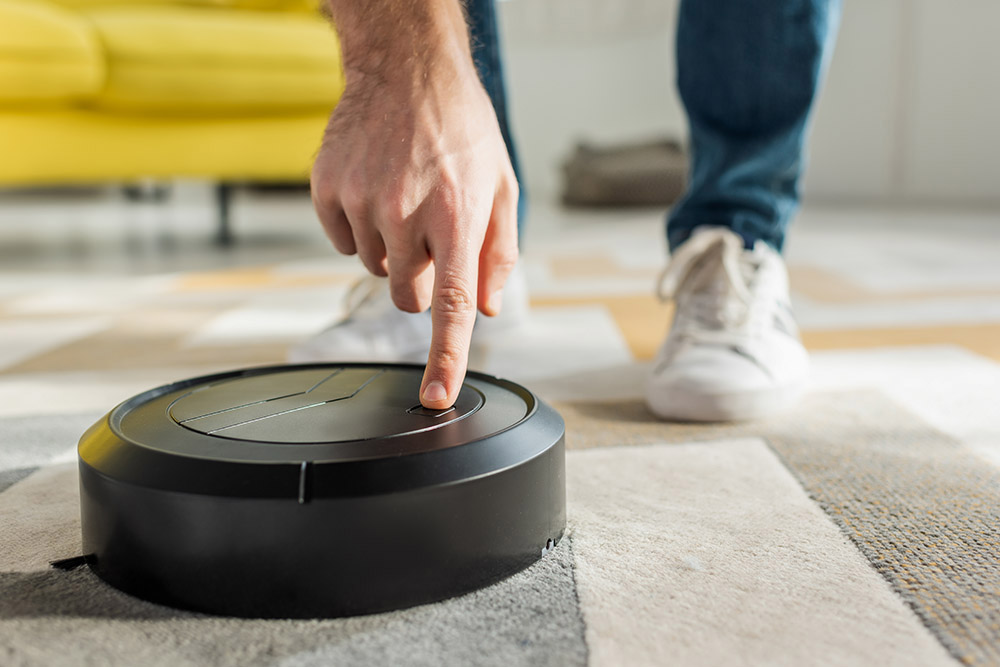 In addition to vacuuming, you can now leave your mopping to the robots, too. Robot vacuum-mops like Bissell's SpinWave Plus 2-in-1 Robotic Mop and Vac can be controlled with an app, so you can start cleaning even when you're not home. Schedule it to get to work while you're out, and return to a freshly cleaned house.
Using your new tools to maintain a healthier home
Fortunately, with smart home products like those mentioned above, a few additions to your home can help you create a healthier living space and lifestyle for you and your family.
Products and product features may be subject to change.