Get Ready for "The Sopranos" Prequel: "The Many Saints of Newark"
4

comments
Over six seasons, Tony Soprano grew into one of TV's most iconic characters, juggling his roles as mob boss to a crew of Italian-American mobsters and as husband, father and son in his often demanding family—while finding time to quietly see a psychiatrist to help cope with his range of emotions. 
However, fans of the HBO series "The Sopranos" will soon be able to feast on an even bigger treat: a much-anticipated prequel exploring the origins of Tony and other characters from the show more than three decades before its 1999 debut. 
Here's all you need to know about the "The Many Saints of Newark." 
When and where will the prequel debut?
It's slated to premiere October 1, 2021, simultaneously in theaters nationwide and streaming on HBO Max. The film was originally set to debut last September, but the pandemic delayed the release. Check out the trailer below!
Who stars in the film? Which characters are featured?
Michael Gandolfini, James Gandolfini's now 22-year-old son, plays the young Tony Soprano, many years before he rose to boss of the DiMeo crime family. Based on the glimpses of footage so far, the casting move appears to be genius, as Michael greatly resembles his late dad. 
It's unclear whether the movie will show a different side of young Tony or tease his future as the ruthless but sensitive and charismatic mobster he'll become.
Set in the 1960s and 1970s in Newark, NJ, Alessandro Nivola stars as Richard "Dickie" Moltisanti, cousin of Tony's future wife, Carmela, and future dad of Tony's protégé, Christopher Moltisanti. According to reports, Dickie is actually the film's main character and protagonist, which also explains the film's title: Moltisanti in Italian means "many saints."
Even though he died long before "The Sopranos" pilot episode, Dickie's backstory is helpful here: In season 4, Tony tells Christopher that Dickie was slain by a crooked cop named Barry Haydu—a hit Haydu agreed to carry out in order to pay off his own gambling debts. The mob allowed Haydu to remain alive for decades in order to retain his connections. Once it was known that Haydu was no longer useful because he was retiring, Christopher killed Haydu and made it look like a suicide, despite pleas from the cop that he didn't kill Dickie. Let's hope the movie answers whether Haydu is the actual killer, or if there was more to the hit.
Jon Bernthal plays Tony's father Giovanni "Johnny Boy" Soprano, a well-liked capo who died from emphysema in 1986, leaving Tony in charge of his crew within the DiMeo crime family. Johnny Boy had controlling interest in Barone Sanitation and Satriale's Pork Store—two mob-connected "front" businesses regularly featured in "The Sopranos."
Corey Stoll plays Johnny's younger brother, Corrado "Junior" Soprano, Jr. We know from the HBO series that Junior (played by Dominic Chianese) rises to boss before retiring and suffering from dementia. Junior was known to have some resentment toward Johnny for becoming a "made man"—a title of reverence bestowed for becoming a mob soldier—before Junior was able to achieve that honor. Junior acted as Tony's surrogate dad and mentor for many years following Johnny's death, but also grew to resent Tony's fast rise up the ranks throughout the series.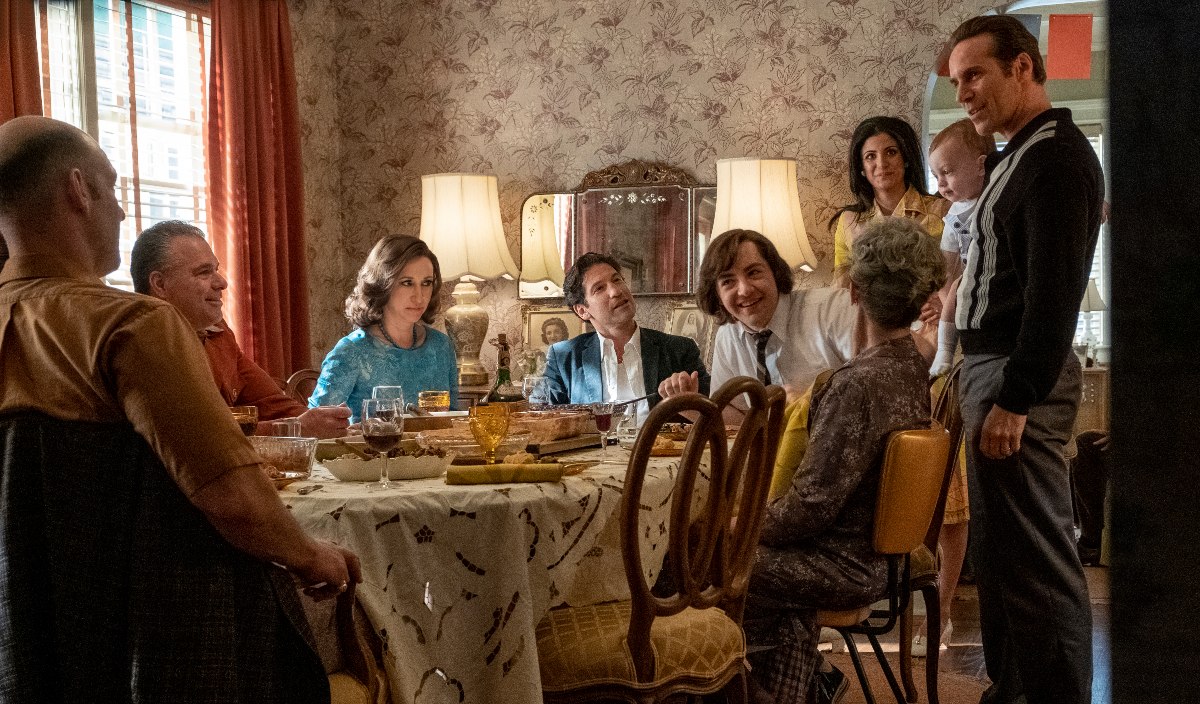 Photo courtesy of Warner Brothers
Billy Magnussen plays Paulie "Walnuts" Gualtieri, who we know was a bodyguard and enforcer for Johnny since he was a teenager. On the HBO series, Paulie (then played by Tony Sirico) was loyal to Tony, but was also a hot-tempered psychopath who rose to underboss before the series' finale. The odds are he won't be called "Paulie Walnuts" in the prequel: He didn't get the nickname until the early 1990s when he hijacked a truck he thought was filled with TV sets, but only was carrying walnuts. 
John Magaro plays Silvio Dante, a part later played in the series by Steven Van Zandt. Silvio is Tony's childhood pal and followed him into Johnny's crew. On "The Sopranos," he was typically the voice of reason, helping mediate disputes and later becoming Tony's consigliere and most reliable adviser. He often recalled his dream of being a professional singer when he was younger, and maintained his show business connections throughout the series, owning several North Jersey clubs, including the strip joint Bada Bing! (of course). 
Vera Farmiga plays Johnny's wife, Livia Soprano, who was played in the series by Nancy Marchand. The couple had three children—Tony, Janice and Barbara—and Livia was abusive to each of them. In season 1, Livia tried to manipulate Junior into putting a hit on Tony. "Mother of the Year" she was not.
The cast also includes Leslie Odom Jr., Ray Liotta and Michela De Rossi.
Sopranos' creator David Chase co-wrote the screenplay with Lawrence Konner, and Alan Taylor directs.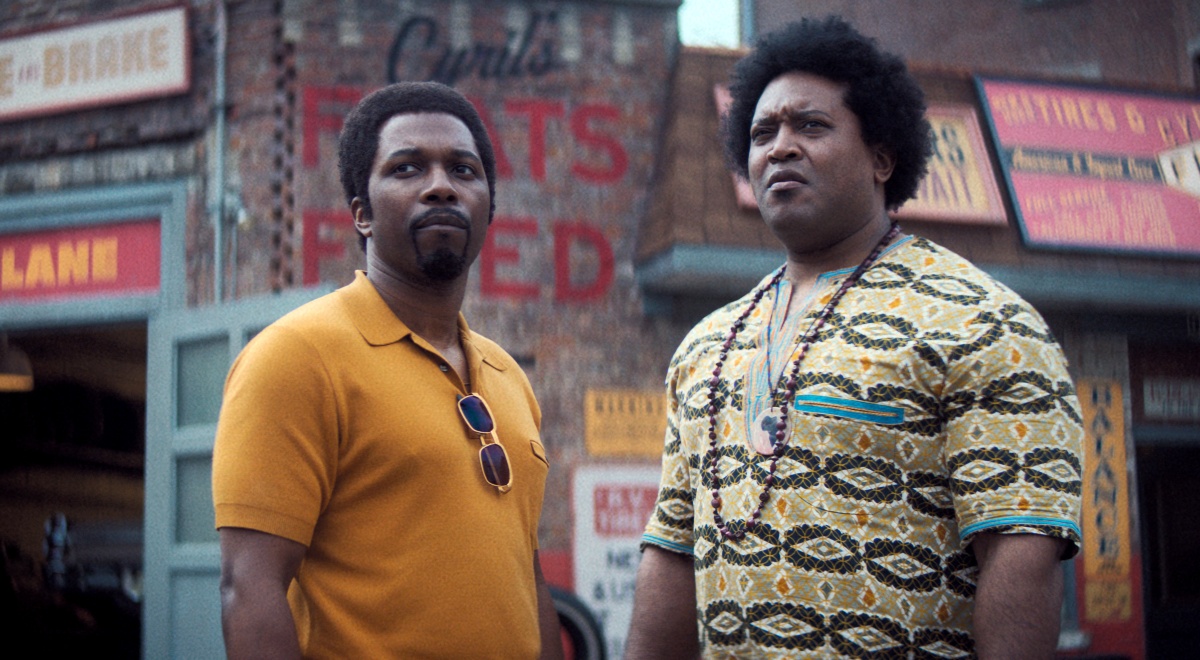 Photo courtesy of Warner Brothers
What can viewers expect from the prequel?
The film uses the 1967 Newark race riots as its backdrop. Sparked after a black cab driver was beaten and arrested by white cops over a minor traffic infraction, this was a time in history when tensions were especially high between the city's Blacks and Italians—especially gangsters from each group—and became even more lethal during the riots.
NJ.com reported that Newark streets used for the "Many Saints" film sets were "strewn with debris and a car was set ablaze," while the riot scenes included "smashed-in windows, store wares strewn across the hose-soaked streets and background actors playing National Guardsmen, state troopers and Newark police."
Not much else is known about "The Many Saints of Newark," but Michael Gandolfini teased fans last September by posting an Instagram photo of a tombstone engraved with the name of Christopher Moltisanti (who died in season 6) saying, "The wait will be worth it. Love y'all."
Where can you catch up on "The Sopranos" while you wait for the prequel?
All six seasons of the original series are available on HBO Max. 
Program availability may have changed and is subject to change. Streaming services may require a subscription and sometimes an additional fee.