When you first work from home, challenges keep popping up. How do you best collaborate with colleagues, stay productive, and balance your work and home life? Developers have thought about all of this, and you can probably find an app that can help, from communication and file management to productivity and mental wellness. Before you download any, check with your IT team to make sure the app is compliant with your company's technology policy.
Here's a quick overview of 15 apps for your computer or your mobile device that can help keep your work at home days focused on your work.
Communications Apps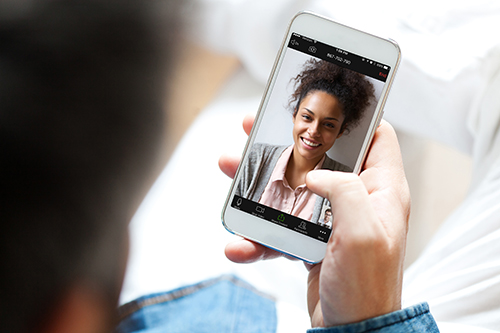 What it is: Video and web conferencing app that also has webinar, desktop, and mobile capabilities.
Cost: Free for one-on-one meetings and for 40-minute group meetings of up to 100 people. Zoom also offers pro, business, and enterprise plans that start at $14.99/month per host.
Benefits: Zoom allows teams to hold virtual meetings, as well as conduct training webinars and business presentations. There's also a chat panel on the right-hand side of the video conferencing window you can use to chat with colleagues in real-time. If for some reason your computer connection is slow at home, you can dial into a meeting instead of joining from your computer. Zoom also integrates with other solutions, including Google Calendar, Gmail, Slack, and Microsoft Teams. These integrations make it easier to schedule, start, or join a meeting, which helps you work more efficiently.
How to download it: Go to the download center on Zoom's website for links to its web-browser version, Outlook add-in, iPhone, and Android mobile app.
What it is: Google's instant messaging and video call service.
Cost: Free
Benefits: You can join a video meeting from anywhere thanks to Hangouts' iOS and Android apps. Hangouts also is integrated with other Google products. If you have Gmail, it's simple to join by clicking the meeting invite link in your Google calendar or email. You also can download the mobile app to join meetings on the go, which is perfect if you want to step outside for some fresh air or multi-task and move around the house while you work. 
How to download it: Go to hangouts.google.com or click the Google apps icon in the upper right-hand corner of your Gmail inbox. Next, scroll down to find the "Meet" app. Click it to join or start a meeting.
What it is: Messaging and collaboration tool that allows team members to communicate with each other instantly, anywhere and anytime.  
Cost: Slack offers standard plans that start at $6.67/month per person; plus plans for $12.50/month per person and enterprise grid plans for large organizations at a custom price.
Benefits: Dedicated channels let you track conversations for specific projects or message your co-workers directly if they've joined your company's Slack workspace. Setting up real-time notifications via desktop, email, or mobile also can help you stay on top of important work messages. Plus, you can do voice or video calls directly in Slack, share images, video and other files, and connect other tools your company uses, like Google Drive. Slack's app directory includes over 2,000 app integrations, including Google Drive, Outlook calendar, Cisco Webex for video conferencing, and Streak, an email tracker.
How to download it: Slack has all the instructions you need. Visit the App Store and Google Play to download the app for your iPhone or Android.
File Management Apps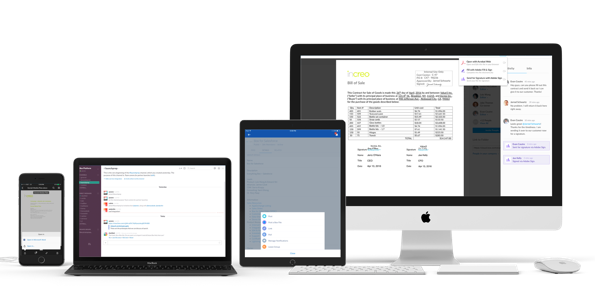 What it is: File hosting service that lets you easily and securely share documents, videos, images, and collaboration tools like Slack and Trello. Dropbox offers between two and three terabytes (TB) of storage space and optional paid cloud storage, which can help you make additional room on your hard drive.
Cost: Dropbox offers plus and professional plans ranging from $9.99 to $16.58 a month. You can also start with a 30-day free trial. 
Benefits: You can access shared files from any device — desktop, mobile or tablet — so there's no need to email updated versions of the same document back and forth between colleagues. You also can do a text search in images and documents, see time-based comments for video files, and access mobile offline folders, so you can retrieve relevant documents whether you're on or offline. 
How to download it: Download the iPhone app and the Android app. Visit this page from Dropbox for other download options.  
What it is: Cloud-based file storage service for Gmail users that lets you collaborate within documents in real time, whether you're at home or in the office.
Cost: If you have a Google account, your first 15 gigabytes (GB) of storage are free. Plans start at $1.99/month for 100 GB of storage.
Benefits: You can easily save files someone has emailed you directly from your inbox — just click the Google Drive icon on the file and it'll be stored for safekeeping. Plus, any work you create within Google Docs, Google Sheets, or Google Slides is automatically stored in Drive.
How to download it: If you already have G Suite, there's no need. Otherwise, check out this page to download for personal or business use.
What it is: Cloud-based content management system that lets you share files, simplify your workflow, and better collaborate with communication tool integrations. 
Cost: Plans start at $5/month per user.
Benefits: You can automate repetitive work tasks, such as reviews and approvals for marketing messages, a new contract, or client presentation. Your team also can assign tasks and share and comment on files in real-time to create a more streamlined and collaborative workflow. Box integrates with more than 1,400 other apps, including Microsoft Office and Google Suite, and there are several security controls in place to protect your company's most sensitive documents.
How to download it: Download it from the App Store or Google Play. Visit this support page on  desktop and other download options.
Project

Management Apps

What it is: Web and mobile app that helps teams organize and track their projects.
Cost: Free for basic plans. $10.99/month per user for premium plans and $24.99 a month for business plans. Enterprise plans have custom pricing.
Benefits: Asana helps you keep both big and small projects on track, especially when multiple team members are involved working from multiple locations. You can assign tasks to your colleagues, set deadlines, break down projects into tasks and mini-tasks, assign priority levels to certain tasks , and set project milestones to track your team's progress.
How to download it: Download the mobile app from the App Store or Google Play.
What it is: Visual project management app that lets you use boards, lists, and cards to organize tasks and projects.
Cost: Free for basic plans and up to $20.83/month per user for enterprise plans.
Benefits: If you're a more visual person, Trello might be a better fit. Just create a board for your project and invite team members to collaborate. You can then add to-do lists or cards for each task in your workflow, along with comments, attachments, and due dates.
How to download it: Download Trello's app from the App Store or Google Play. Visit this page to download Trello's web and desktop apps.
What it is: Project management platform that enables real-time communication between teams and provides a way for teams to track priorities and actionable tasks. 
Cost: Personal plans are free but come with limited features. Business plans are $99.99/month.
Benefits: Whether you or a colleague are assigned to a specific task, you'll get automatic notifications as the deadline approaches. If you have an update for a task or need to provide additional resources, you can easily upload documents or leave a message on the message board for that task or project. You also can engage in group chats, create a shared schedule with important dates, and create automatic check-ins with pre-set questions for your team on the status of a project, which can be delivered on specific days and times.
How to download it: Download Basecamp's app from the App Store or Google Play. Visit Basecamp's app download page for Mac and Windows downloads.
Productivity 

Apps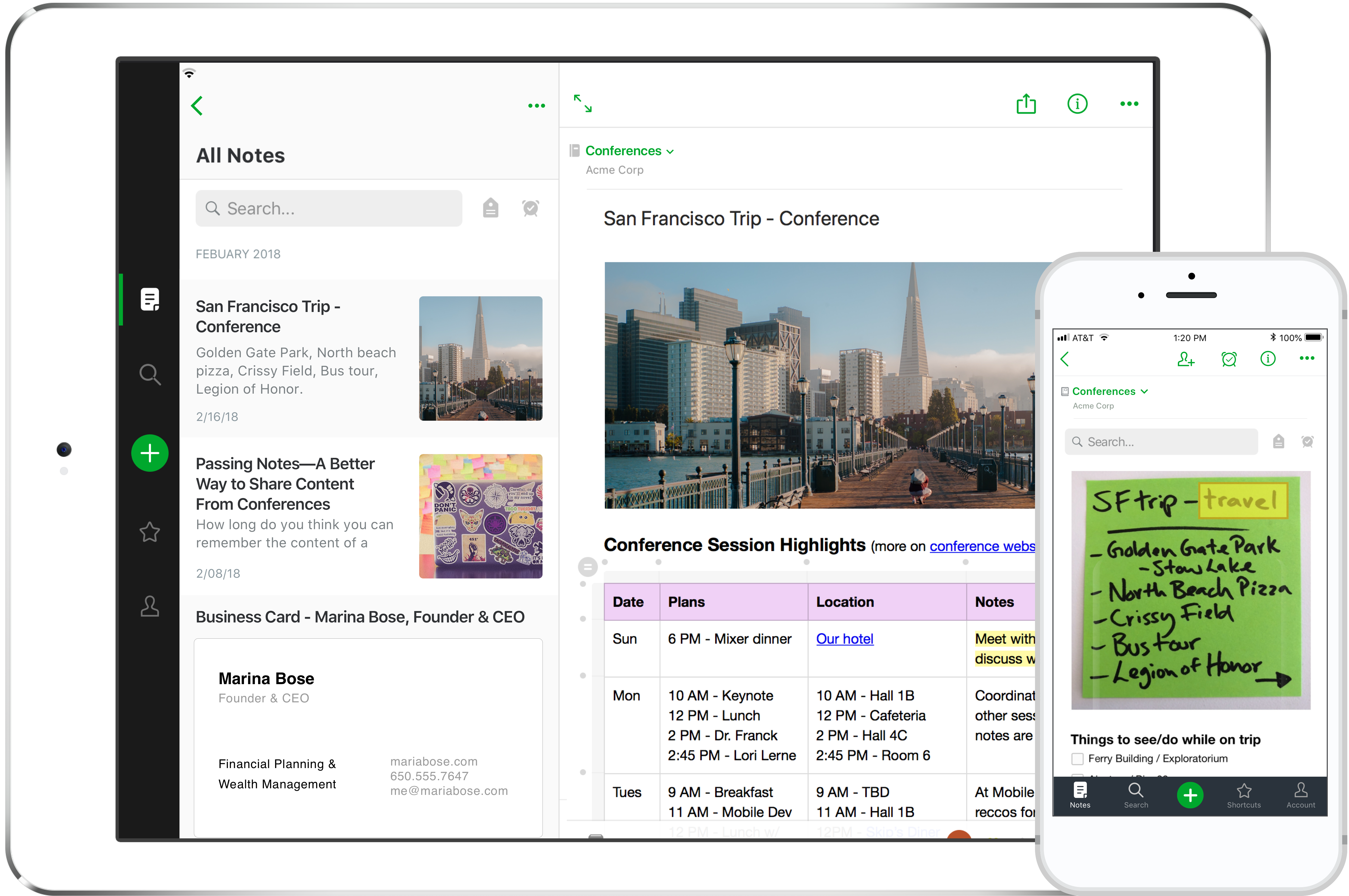 What it is: Simple poll creation platform that helps answer questions like availability for meetings or other decisions that require input from multiple stakeholders.
Cost: Between $4.49/month for a starter account to $30/month for a team account. Enterprise accounts have custom pricing.
Benefits: You can quickly aggregate feedback from colleagues without a long email thread.  You also can sync Doodle with different calendar platforms, including Google Calendar and Office 365, and create a shareable URL to send to anyone you want to poll. And if someone's schedule changes, you can easily track everything right in Doodle — no email wrangling necessary. 
How to download it: Check out Doodle's website to sign up for the web version. Visit the App Store and Google Play to download the iPhone or Android app. 
What it is: A time tracking app that allows users to keep tabs on their daily activities, allowing them to identify which tasks are taking up too much time and to optimize their workflow based on these insights. 
Cost: Plans start at $10/month per user.
Benefits: Toggl offers tracking reminders in case you forget to start the timer. To make things less manual, it also offers calendar integrations that let you convert calendar events into time entries in just one click on Toggl's mobile app. With Toggl, if you know how long a specific task takes, you may be able to set more realistic deadlines in the future. If you work in an industry like law or consulting that tracks billable hours, this can be a useful tool to bill clients appropriately. 
How to Download it: Download the Android app from Google Play or the iPhone app from the App Store.
What it is: A desktop and mobile app designed for note taking, organizing, task management, and archiving information. 
Cost: Ranges from free for a basic plan to $14.99/month per user for a business plan.
Benefits: Whenever inspiration hits or you need to remember an important point or time-sensitive task, jot it down in Evernote. What's even better is that you can access your notes from any platform. So even if you're on the go, you can write down or read notes as long as your phone is within reach. Evernote also functions as a scanner. The tool has a built-in camera for iPhone and Android devices, so you can scan important documents anywhere and anytime. Evernote also has a cool feature that allows you to read handwritten notes in 28 typewritten and 11 handwritten languages, so even notes on paper and Post-its can get captured.
How to download it: Download Evernote on the App Store, Google Play or access it via Microsoft. 
Mental Wellness 

Apps

What it is: App that encourages beginners and those experienced in meditation to develop a regular practice. 
Cost: Free, but premium plans start at $9.99/month.
Benefits: Whether you have cabin fever, feel isolated working from home, or just need some quiet time for reflection away from work, the Mindfulness app can help you get centered and restore some balance to your life. You can start with a five-day guided practice, do timed sessions that range from three to 30 minutes, or personalize your meditation based on your preferences. Plus, with a premium plan, you get access to more than 250 guided meditations and courses led by renowned teachers and practitioners.
How to download it: Download the app via the App Store or Google Play.
What it is: App that provides scientifically-proven workouts you can complete in just seven minutes, perfect for a quick break in your workday.
Cost: Free
Benefits: If you have little time or can't get to the gym, the Seven app is a great way to maintain your physical health while you work from home. You also can create custom workouts, use your Apple Watch to access workouts or compete with friends — all of which can help you stay motivated.
How to download it: Download it from the App Store or Google Play.
What it is: App that allows users to set break times during the work day, during which the app will not permit other activity on that device, truly forcing you to pause and reset. 
Cost: $0.99
Benefits: Take a Break Please halts your workaholic tendencies. The app promotes self-care by dimming your screen during pre-determined breaks. You can designate a specific time for a break and how long it'll last. For example, you can set Take a Break Please to run every two hours or around 12:30 — which should remind you to stop working and actually take a lunch break. 
How to download it: Download it from the App Store.
Working from home comes with more flexibility, but it also can be a challenge without the right tools and technology. Use these remote work apps to stay productive, connected and to practice self-care. Your mind — and body — will thank you later.